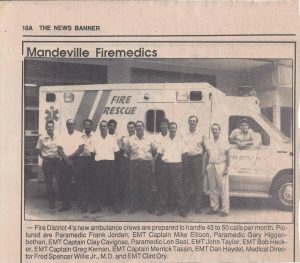 The first Fire District 4 ambulance call was on July 31,1994, and the service has been in operation ever since. District 4 has been able to provide additional firefighters and an ambulance service to citizens, noting improved response times for medical emergencies, without any additional taxes.
The money generated from the ambulances funds the ambulance service and the cross-trained Firefighters/Rescue Specialists who staff it. This has resulted in better trained emergency personnel doing two jobs for the price of one.
Additionally, the ambulance service helped Fire District 4 receive the Class 2 Fire Rating many years ago, and has also helped the District obtain its current Class 1 Fire Rating.

See the 1993/1994 news articles below regarding the creation of the ambulance service.