Mandeville Fire Department (St. Tammany Parish Fire Protection District #4) protects the lives and property of Mandeville area residents. Our operating budget is funded by two existing millages which are set to expire shortly. We receive no additional funding from St. Tammany Parish or the City of Mandeville.
With rapid population growth, particularly since Hurricane Katrina, there is greater risk to life and property, and higher emergency call volume across the Mandeville area. However, the Fire Department's resources have not grown at the same rate. This directly affects citizens' homes and families in the following ways:
Delayed emergency response times
Inadequate resources to respond to emergency call volume
On November 6, Citizens will be asked to renew two existing millages, which currently fund all emergency response services in District #4, and support a new $75 parcel fee, which will fund the building, equipping and staffing of two additional fire stations in District #4.
Early Voting Week: Tuesday, October 23 – Tuesday, October 30 (closed on Sunday)
Voting Day: Tuesday, Nov 6
Download Sample Ballot
Early Voting Week Tue, Oct 23 – Tue, Oct 30 (closed on Sunday)
Who is the Mandeville Fire Department?
We operate 4 fire stations covering approximately 75 square miles of St. Tammany Parish, and serve nearly 60,000 residents across the Mandeville area.
Our team of 119 employees provides all hazard response to District #4 residents, including fire, Emergency Medical Services (EMS), water rescue, hazardous materials and more.
We also provide public safety and fire prevention education, and have a nationally recognized fire training program.
What is the current need?
Fire District #4 needs two additional stations to meet the emergency response needs of the Mandeville area's growing population.
The existing 4 stations are not adequately positioned or staffed to respond to current call volume within the minimum response time of 5 min. 20 sec.
No additional stations have been added in Fire District #4 in 30 years. Existing stations are now obsolete, as they were positioned to meet the needs of their time.
Mandeville Fire Department responded to 6,320 emergency calls in 2017 alone.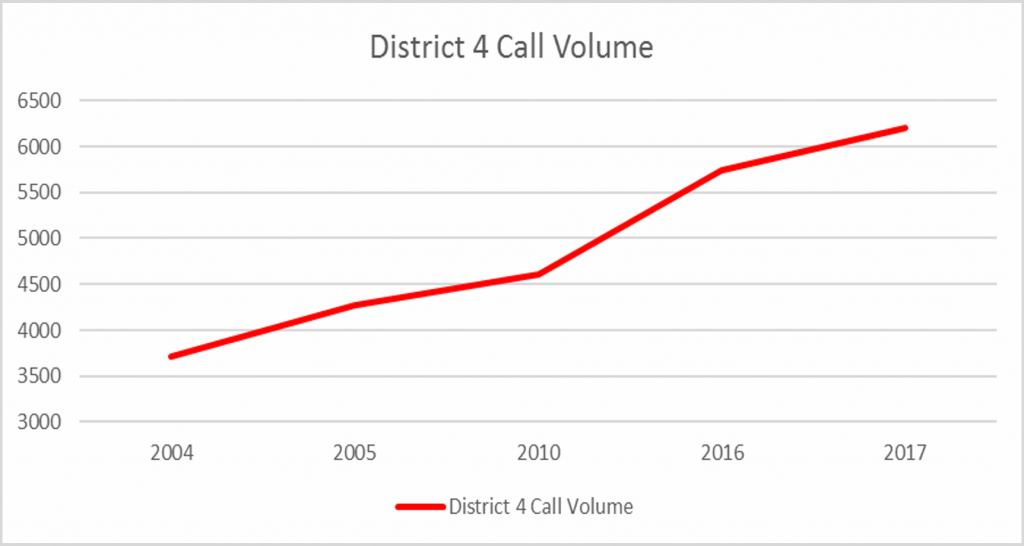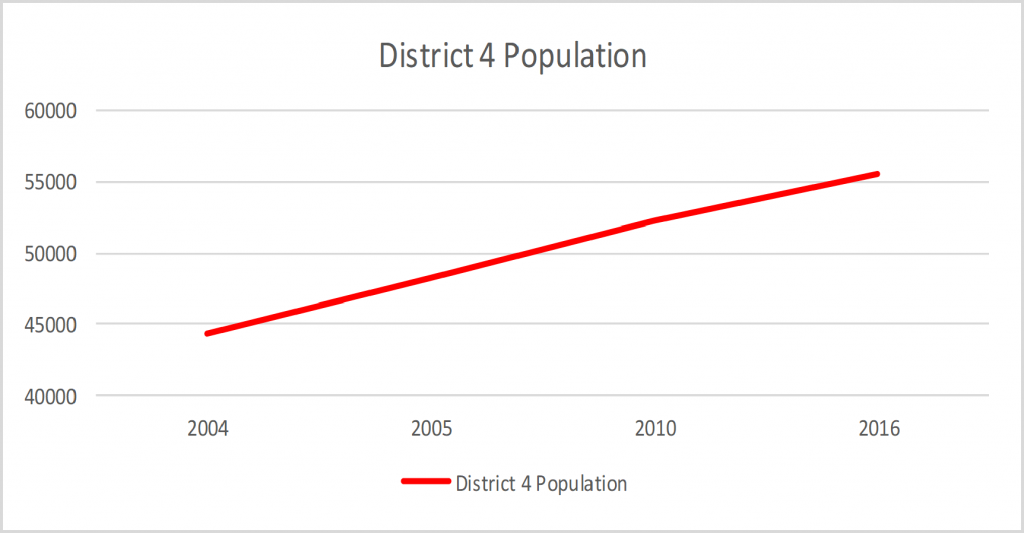 Are Mandeville area residents and their property at risk?
YES. Increased population density correlates directly with risk to life and property.
Mandeville area residents are becoming increasingly vulnerable as emergency personnel struggle to meet the minimum emergency response time.
Currently, there are several areas of greatest concern where response times are not being met. Chief among these are:

West on Hwy 22 in the area of Beau Chene to the river
North on Hwy. 190 above Lakeview Hospital

On average, 8.2 times per day, emergency resources are unavailable in these areas due to already being deployed on other emergencies.
Other areas of Mandeville will increasingly be affected as resources are pulled from those stations to meet the emergency need in the areas of greatest population density.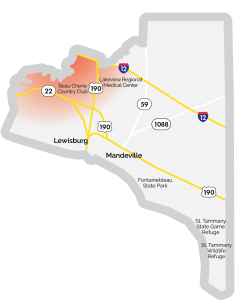 How is Fire District #4 currently funded?
We are not funded by or affiliated with St. Tammany Parish or the City of Mandeville, and we receive no sales tax revenue.
Our operating budget is funded by two existing millages – 25 mills and 1 mill – which provide for all emergency response services in Fire District #4.
Is Fire District 4's ambulance service self-funding?
The first Fire District 4 ambulance call was on July 31,1994, and the ambulance service has been in operation ever since. District 4 has been able to provide additional firefighters and an ambulance service to citizens, noting improved response times for medical emergencies, without any additional taxes.
The money generated from the ambulances funds the ambulance service and the cross-trained Firefighters/Rescue Specialists who staff it. This has resulted in better trained emergency personnel doing two jobs for the price of one. Additionally, the ambulance service helped Fire District 4 receive the Class 2 Fire Rating many years ago, and has also helped the District obtain its current Class 1 Fire Rating.
Read 1993/1994 news articles regarding the creation of the ambulance service.
Why is additional funding needed?
According to call response time data collected in 2017, there is an immediate need for two additional stations in key areas of Fire District #4 – one on Hwy. 22 near the Tchefuncte River, and another near Lakeview Hospital.
A $75 parcel fee will generate enough funding to build two stations, purchase the necessary equipment and hire emergency personnel.
Note that Fire District #4 has made every effort to cut costs and conserve funding for this project, including reducing employee benefits and renegotiating all department contracts and interest rates. But additional funding is still necessary for a project of this magnitude.
Where is the funding being spent?
Two Additional Stations
$1.5 Million Each
$3 Million Total
Two Fire Apparatus (75ft.)
$800,000 Each
$1.6 Million Total
Two Ambulances
$300,000 Each
$600,000 Total
Station Remodeling
$400,000
$400,000 Total
Eqpt. For Pumper/Ambulance
$400,000
$400,000 Total
TOTAL
$6 Million
| | |
| --- | --- |
| Bond Payments | $425,000 |
| Personnel Cost | $1,335,000 |
| YEARLY TOTAL | $1,760,000 |
What happens if the millage renewals or parcel fee are not approved?
If the millages are not renewed before 2020, Fire District #4 will no longer be able to provide emergency response services to Mandeville area residents.
If the parcel fee does not pass, Mandeville area residents will experience greater risk to life and property. Emergency response times will continue to grow as the population grows.
What is a millage?
A millage is the percentage of value that is used in calculating taxes. A mill is defined as 1/10 of 1 percent and is multiplied by the assessed value after any exemptions have been subtracted to calculate the taxes. For example: If the tax rate is 150 mills and total assessed value is $10,000 with no exemptions, the taxes would be calculated as $10,000 x .150 = $1,500.00. If for the same house you had a homestead exemption the taxes would be: $10,000 – $7,500 (H.E.) = $2,500.00 x .150 = $375.00 in taxes. Millages have expiration dates, in this case 20 years.
What is a parcel fee?
A parcel is a portion of land where a residential or commercial structure is located. A parcel fee is a set amount, in this case $75 on each parcel, invoiced annually on the owner's property tax bill from the Sheriff's Office. Parcel fees also have expiration dates, in this case 23 years.
How does District #4 compare to other fire districts in St. Tammany Parish?