Training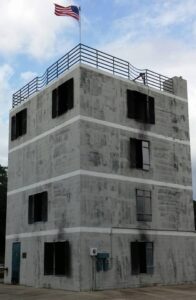 In Greek culture, the word 'training' was used synonymously with the word discipline. The two terms were used interchangeably. In the culture of emergency response, training (discipline) is a life style.
The single most important function of St. Tammany Parish Fire Protection District 4 is our timely response to emergencies. During the year 2017, the community members that we serve dialed 9-1-1 over 6300 times. The Department responded to 100% of those requests for emergency assistance.
Our second most important task as a multi-hazard response agency is being prepared for those emergency incidents through continuous, meaningful training. Personnel in our Fire Suppression ranks are subjected to a rigorous training regimen throughout their career and during each year in multiple disciplines (fire, EMS, hazmat, technical rescue) as an ongoing way of life.
History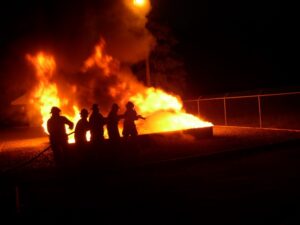 In 2000 Chief Earl Gorrondona recognized a need for a permanent Training Division within the Mandeville Fire Department structure. This was realized with the promotion of Martin Latino to the full-time position of Training and Safety Officer. Since then, the division has grown with the department to four personnel, the Chief of Training and Safety and three Training and Safety Officers. Each of these members of the Division are cross trained with the competencies to instruct various emergency disciplines including Firefighting, Hazardous Materials, Rescue, and EMS. Through a partnership in recent years, the St. Tammany Parish Fire Protection District 4 Regional Training Institute has become the areas host training site for all hazards emergency training that includes St. Tammany agencies such as Parish Law Enforcement and at least 7 surrounding St. Tammany Fire Departments.
Recruit Academy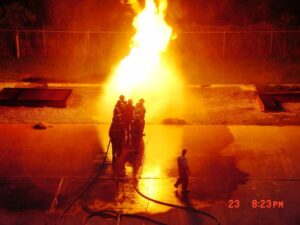 Since the inception of the Training Division, Mandeville Fire has held recruit academies and has initiated the foundation of firefighting skills in over 125 recruit firefighters. The Training Division's current recruit academy is 16 weeks in duration and encompasses educational material from NFPA 472: Standard for Competence of Responders to Hazardous Materials/Weapons of Mass Destruction Incidents, NFPA 1001: Standard for Fire Fighter Professional Qualifications, and American Heart Association Basic Life Support for Health Care Providers. Each Recruit is held to a high academic standard and must pass LSU FETI IFSAC certifications for Hazardous Materials/WMD – Awareness, Hazardous Materials/WMD – Operations, and Fire Fighter 1. The course includes all lectures and practical skills for Fire Fighter 2 certification as well.
Additionally, the Academy holds all recruits to a high level of physical standards. Candidates must first prove they are at a minimum physical ability level by passing the CPAT – Candidate Physical Ability Test. Through the recruit academy, other physical benchmarks must be achieved in the areas of running, push-ups, sit-ups, flexibility, and additional firefighter physical skills testing.
EMS Training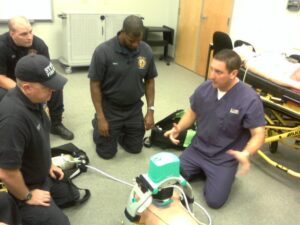 The Training Division works in collaboration with the EMS Division to provide all incumbent firefighters the continuing educational units (CEU) necessary to satisfy their EMS licensure. In order to better serve the public in the areas of emergency health care, all operational employees are required to become certified at minimum as an EMT and may progress to the level of Paramedic. In conjunction with each recruit academy, the Training Division presents an EMT class for the recruits.
Each year, the Training Division conducts multiple continuing education unit classes. These start with American Heart Association Basic Life Support, Advanced Cardiac Life Support, and Pediatric Advanced Life Support. These account for 192 educational hours presented. An additional 288 hours of continuing educational hours are presented by the Training and EMS Divisions on other various emergency medical topics. All of these classes are open to outside emergency agencies in the community and typically have a strong attendance by surrounding Fire Departments.
Technical Rescue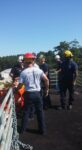 Technical Rescue is a very specialized type of training that requires an intensive instructor to student ratio. The Training Division assists in arranging outsourced training for the employees for most types of technical rescue. With the expansion of specially trained personnel, the Training Division has started working on a plan to incorporate initial technical rescue training classes, such as vehicle extrication and rope rescue, into the yearly training schedule. Currently, these topics are covered in the yearly training as continuing education. The other technical rescue disciplines that are often outsourced include confined space rescue, urban search and rescue, swift water rescue, open water rescue, and trench rescue.
Hazardous Materials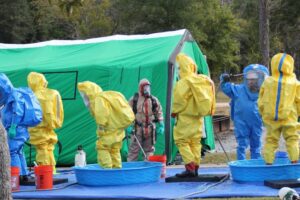 Because St. Tammany Parish Fire Protection District 4 is the primary hazardous materials response agency for all of St. Tammany Parish west of LA Highway 434, the training division does not stop with awareness and operations level hazmat training delivered during the recruit academy. A minimum of 18 technician level hours are offered annually in house through drills. As with technical rescue, outside advanced and enrichment training is coordinated through the training division. Members in suppression are encouraged to attend courses such as Chemistry for Hazardous Materials and Operating Site Practices at the National Fire Academy in Emmitsburg, MD. A member of suppression may also progress to become an IFSAC and Pro Board certified Hazardous Materials Technician by properly performing and executing the required practical skills and then passing a written exam through LSU – Fire and Emergency Training Institute.
Safety
Emergency responders are first and last public safety officers. This is to say that life safety is paramount in our mission. Although both are vital considerations, incident stabilization and property conservation are of less importance than the safety and consideration of the lives of our community's members and the health and well-being of emergency responders. Therefore, risk assessment is a never ending, difficult, and arduous assignment of our administrators, but the responsibility of general safety throughout operations is a shared responsibility among all responders of St. Tammany Parish Fire Protection District 4. The majority of educated scholars in the arena of emergency risk management agree that the most critical factor in determining and predicting risk is NOT population but rather population density.
As the population density of St. Tammany Parish Fire Protection District 4 increases, our agency remains committed to its primary mission – the security and life safety of all the inhabitants within the borders of our jurisdiction.