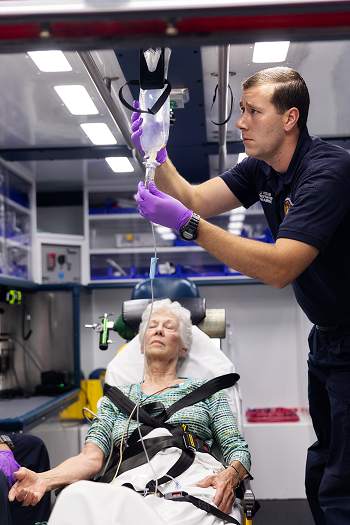 The goal of the EMS Division is to ensure that those requesting medical assistance receive the best pre-hospital emergency care possible from competent and knowledgeable Paramedics and Emergency Medical Technicians (EMTs). EMS personnel provide on the scene care, stabilization, and transport to the nearest appropriate medical facility. The EMS Division uses specialized equipment and receives continuing education to ensure they are prepared to meet the care needs of the community. During 2017 the EMS Division responded to approximately 5,000 medical emergencies. The District's fire response vehicles are equipped to manage medical emergencies until ambulance support is available.
The EMS Division has four Advanced Life Support (ALS) ambulances which are each staffed at all times with a Paramedic and EMT. Four additional ambulances are available for times of high call volume. Our ambulances are equipped with emergency medications, intravenous fluids, cardiac monitors and/or defibrillators, and other primary emergency supplies and equipment. Direct communication with the staff and physicians at the receiving hospital allows pre-notification of the patient's condition, the ability to obtain further medical instruction, and expedites patient care upon arrival.
Ambulances are strategically deployed throughout the District to provide an optimum average four to six-minute response from dispatch to arrival on the scene of an incident. The District's EMS Professionals provide varying levels of care as part of a well-integrated health delivery system, from assistance back into a bed after a fall to life-saving medical attention during an emergency.
The EMS Division works closely with the Training & Safety Division to provide EMS initial & continuing medical education for the District's employees. All EMS personnel are cross-trained in fire suppression and other specialty aspects of fire service. Along with the weekly EMS training, Paramedics are certified by the American Heart Association in Advanced Cardiac Life Support & Pediatric Advanced Life Support. All EMS personnel are certified in Basic Life Support and extensive trauma care.
EMS billing inquiries should be made directly to: EF Recovery at 877-213-9047.
Mandeville Fire / EMS is proud to be affiliated with the following professional emergency medical service organizations:
Community members are also encouraged to become knowledgeable about their own health conditions and how they can assist others until trained professionals can arrive.